Ambicon is registered trade mark of company MediaTech Ltd. with offices in Bratislava, Slovak Republic.  MediaTech Ltd. is ISO 9001 certified company and leading specialist in the fields of professional audio and electro-acoustics.  In 2009 MediaTech Ltd. was celebrating its 15 years Anniversary.  In addition to 2 year's long and close cooperation with an ANS provider during the development of the Ambicon ASCS,  MediaTech Ltd's core know-how has been in 2009 expanded with the knowledge and experience from international ATC environment and business.
MediaTech Ltd's aim with Ambicon ASCS and new solutions in the future is a long term commitment to the players and users in the ATC and ATM business.
ATC Global 2011 – another successful show for Ambicon Systems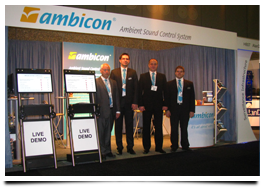 Ambicon exhibits at the world's largest Air Traffic Management event, ATC Global 2011, March 8th – 10th at the Amsterdam RAI Convention Centre, The Netherlands.
ATC Global 2011 was the best year to date with the largest ATC/ATM exhibiton of over 220 exhibitors and the most content rich offering ever including a 2 day world class conference, 5 half days workshops and over 30 seminar sessions.
One of the key issues is finding a forum where all aviation stakeholders concerned with integrating UAVs into controlled and uncontrolled airspace – aircraft operators, ANSPs, regulators, manufacturers – can bring together all the current disparate technology and program roadmaps into a single, global plan. There isn´t better forum than ATC Global.
Ambicon attended the exhibition for the second time and ATC Global 2011 was another successful show for us.
We look forward to meeting you again next year at ATC Global 2012, 6 – 8 March in Amsterdam.
Air Traffic Technology International 2011
See us at the ATC Global 2011 exhibition in Amsterdam on 8 – 10 March, stand H 808.
Live demonstration of Ambicon ASCS superior audio quality is planned on the show.
Thank you for visiting our stand at the ATC Global 2010 exhibition. We had a fantastic exhibition presenting our ambicon products.
If you would like to know more about our products please click on the following link:
We will send you updated information in regards to our new products in very near future. If you wish to get in touch with us sooner, please do not hesitate to contact us at sales@ambiconsystems.com.
Our mailing address is:
MediaTech spol. s r.o.
Drieňová 34, Bratislava 821 02
Slovenská Republika
Our telephone:
+421 (0) 2 4341 7777